There are many questions on the internet about how transcranial magnetic stimulation (TMS) therapy works. Whether you're interested in TMS therapy for depression, anxiety, OCD, ADHD, autism, or other conditions, this blog answers people's most common questions. 
All Your Questions Answered:
1. How does TMS therapy work?

TMS therapy is a treatment method that uses magnetic fields to stimulate nerve cells in the brain involved in controlling our mood. During a session, they place an electromagnetic coil against the scalp during a session, usually near the forehead. This coil sends out repetitive magnetic pulses that stimulate the nerve cells in the brain. By doing this, TMS therapy can help regulate mood by increasing and regulating activity throughout the brain. Pretty cool, right? The best part is that TMS therapy is non-invasive and painless. You don't need anesthesia or sedation, making it a much easier experience than other treatments.
2. What conditions can TMS therapy treat?

TMS therapy can treat several conditions, including depression, anxiety disorders, obsessive-compulsive disorder (OCD), post-traumatic stress disorder (PTSD), bipolar disorder, and chronic pain. TMS therapy has also been used to treat other conditions like schizophrenia, Parkinson's disease, and Alzheimer's disease.
3. Is TMS therapy safe?
TMS therapy is generally considered safe and well-tolerated, with common side effects being minor and easily managed.
4. What are the side effects of TMS therapy?
Like any medical procedure, it may have some side effects. These side effects are usually mild and temporary, including headaches, dizziness, and light-headedness. I have heard of rare cases where seizures have been reported. We recommend contacting a qualified TMS provider if you are considering TMS therapy and have any questions or concerns.
5. How long does TMS therapy take?

So, TMS therapy usually involves several weeks of treatment, but this advanced version only takes one week with multiple sessions per day. The duration and frequency of TMS sessions can vary depending on what your doctor recommends and what you need specifically.
Usually, a TMS therapy session lasts between 30 and 60 minutes. They'll place a magnetic coil on your scalp and use it to deliver quick magnetic pulses to stimulate specific areas of your brain. It's painless and non-invasive, so no need to worry!
Unless you are doing advanced TMS therapy, the typical treatment schedule is five days a week, from Monday to Friday, and it goes on for about 4 to 6 weeks.
To figure out the exact duration and frequency that suits you, it's important to chat with a TMS specialist. They'll work with you to create a personalized treatment plan based on your goals and needs.
6. How many TMS therapy sessions are needed?

The number of TMS therapy sessions required can vary depending on the specific treatment plan recommended for you.
It's important to remember that everyone's experience with TMS therapy will vary, so your number of sessions might differ from someone else's. But when you work with your TMS specialist, they'll create a personalized treatment plan designed uniquely for you.
7. Does insurance cover TMS therapy?

The answer depends on your insurance plan and personal situation. Some insurance companies cover TMS therapy since it's considered medically necessary for treating depression. However, coverage is only sometimes guaranteed, and there may be specific criteria you need to meet for TMS therapy to be covered.

To find out if your insurance plan covers TMS therapy, your best bet is to contact your insurance provider and ask them for more information. They can give you specific details about the coverage options available to you.

8. Will I need maintenance TMS therapy sessions after my initial treatment?
Maintenance TMS therapy can be beneficial for preventing relapse in patients with treatment-resistant depression.
While many TMS patients experience relief from depression after the initial treatment and may not require further TMS or other forms of treatment, it doesn't guarantee a completely depression-free life for everyone.
The need for maintenance TMS therapy can vary depending on individual circumstances and the severity of the condition. It is recommended to consult with your TMS specialist to determine whether maintenance sessions would be beneficial for you.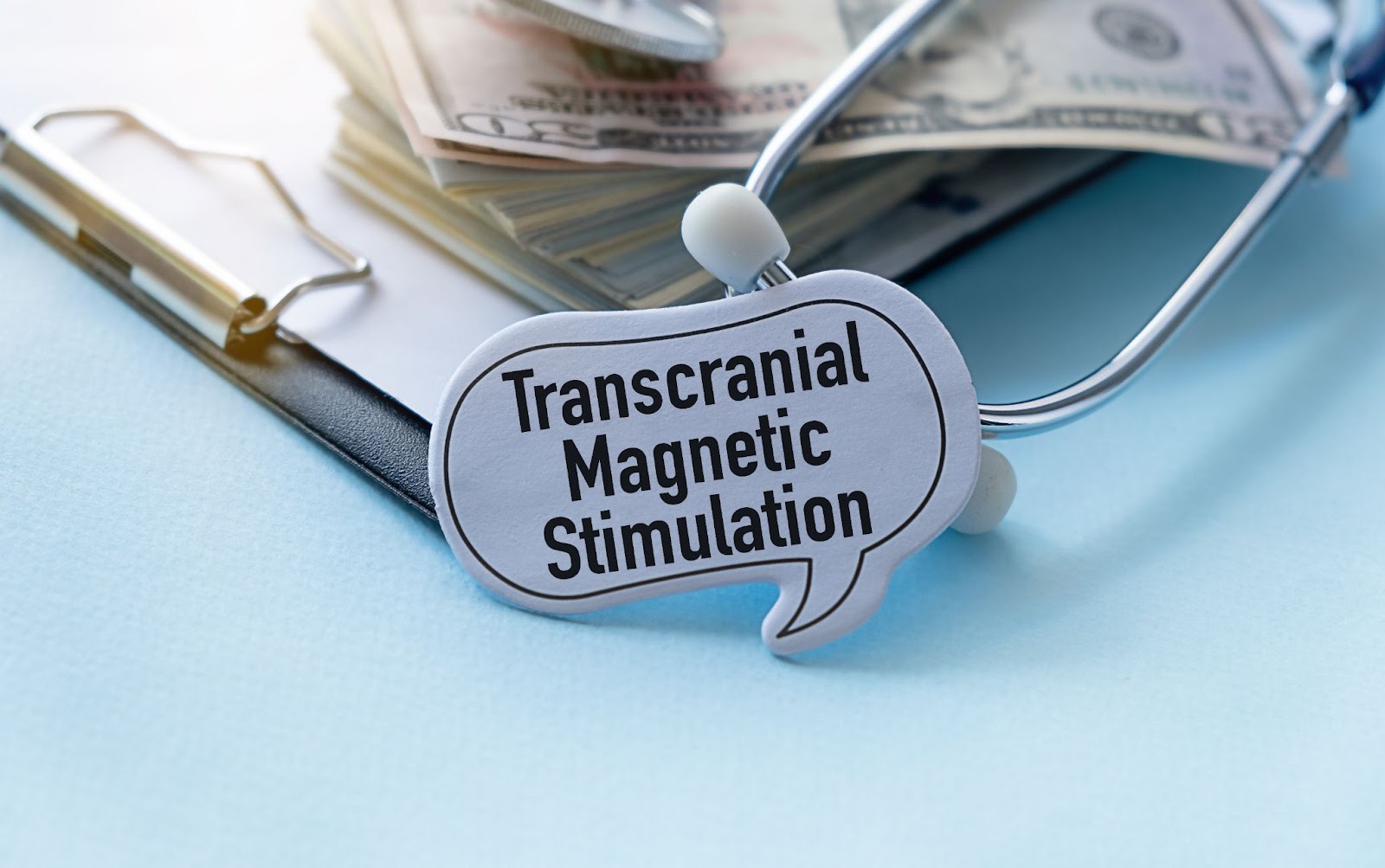 9. How does TMS compare to medication for treating depression?

TMS may be more effective than medication for patients who have not responded to multiple antidepressant medications. TMS has fewer side effects than medication, which is significant since side effects with medications can lead to discontinuation of treatment.
Having said that, everyone is different. For some people, TMS works great as a companion to an antidepressant. Ultimately, discussing TMS with your healthcare provider and TMS specialist is best to determine what will work for you.

10.Can TMS therapy be used in combination with medication?

Absolutely! For many individuals, TMS therapy and an antidepressant are the perfect combination to treat depression, anxiety, or other conditions.

11. How long do the effects of TMS therapy last?

This also varies by person. Some patients experience weeks or even months of symptom relief after completing a course of TMS therapy. In contrast, others may require additional treatment or follow-up sessions to sustain the therapeutic benefits.

12. How do I prepare for a TMS therapy session?

First, wearing comfortable clothing without any metals, jewelry, or accessories is important, as these could interfere with the TMS equipment. TMS therapists typically provide earplugs to reduce the noise level from the machine, but you may choose to bring your own headphones if you prefer.
Before the session, you'll also want to avoid consuming beverages with caffeine or alcohol, as they can affect the brain's activity and potentially impact the TMS session. You may also be instructed to avoid certain medications, such as anti-anxiety and muscle relaxant drugs.
During the session, you'll be seated in a comfortable chair, and the TMS device will be positioned on your scalp, emitting a series of magnetic impulses. The sensation varies from person to person, but it's generally described as a tapping or knocking feeling on the treatment area.
13. What should I expect after a TMS therapy session?
Unlike some other treatments, no sedation or anesthesia is administered during TMS therapy, so you should be fine after TMS therapy. You can drive yourself home and resume normal activities.
Regarding immediate effects, some people may experience mild side effects such as scalp discomfort or headache, but these are generally mild and temporary. These effects usually diminish shortly after the session ends and decrease over time with subsequent sessions.

14. Are there any restrictions on activities after a TMS therapy session?
You do not need to follow any restrictions after a TMS therapy session.

15. How do I know if TMS therapy is working for me?
Figuring out if TMS therapy is working for you can be a bit of a process, but here are some things to look out for:

Pay attention to your symptoms: If you start to notice a decrease in the severity and frequency of your depression, anxiety, or whatever condition you're targeting, that's a good sign that TMS therapy is working. You might feel a sense of relief, improved mood, or just an overall better state of mind.



Check your quality of life: TMS therapy aims to make your life better as a whole. If you find yourself performing daily activities more easily, enjoying hobbies more, and having better interactions with others, it may be a clue that the treatment is working.

Ask for feedback: Sometimes, noticing changes in ourselves is hard. That's when talking to trusted family, and friends can be helpful. They might see positive changes in your behavior, mood, or how you're doing overall. Their observations can give you more insight into whether TMS therapy is making a difference.
Keep talking with your doctor: Your healthcare provider will regularly check in with you to see how you're doing during TMS therapy. It's super important to keep them updated on your progress, symptoms, and anything else you notice. They'll use this information to make any necessary adjustments to your treatment plan so you get the best results possible.
Everyone's response to TMS therapy might differ, so it's important to be patient and stay in touch with your doctor to track your progress effectively.
TMS Therapy With Brain Health Center in St. George, Utah
Whether you're looking into TMS therapy for yourself or someone you love, it's an excellent treatment option for depression, anxiety, autism, ADHD, OCD, and more. 
For more information on TMS therapy, contact Brain Health Center today. We're here to provide high-quality treatment to help alleviate your symptoms and improve your quality of life.