Brain Mapping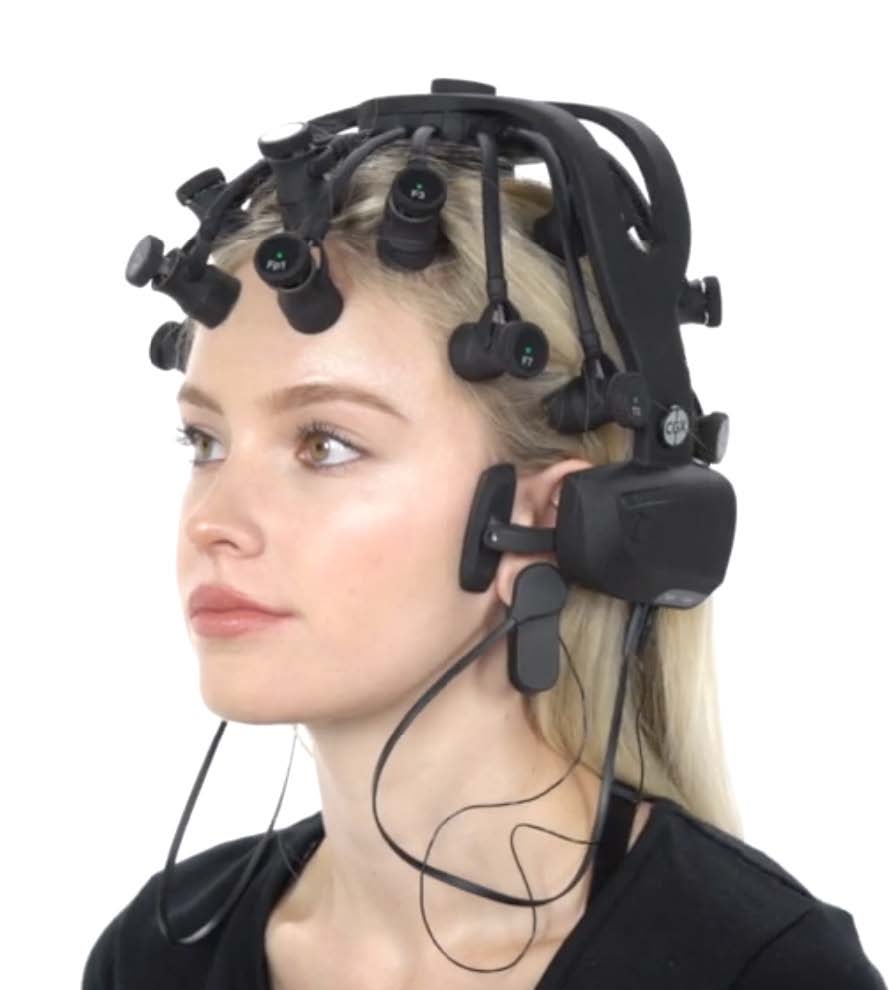 In an effort to help promote Mental Health awareness and to give patients objective data into how their specific brain is operating, we offer our QEEG and brain mapping capabilities (typically a $1,500 service) at no charge. Yes, we're that serious about elevating mental wellness.
We offer a dry QEEG using the latest in technology and equipment which allows us to perform this service both quickly and accurately. We have also partnered with the largest, most reliable national databases to allow patients to see how their brains unique functions compare to similar demographics.
Our brain mapping includes insight into your brain's general activity as well as a zoomed in look at specific networks. Some of these networks include the mood network, the anxiety network, the attention network, and many others.
Patients who receive TMS treatments at the Brain Health Center are often given a second QEEG after completing treatment to see how their brain's functionality has been impacted.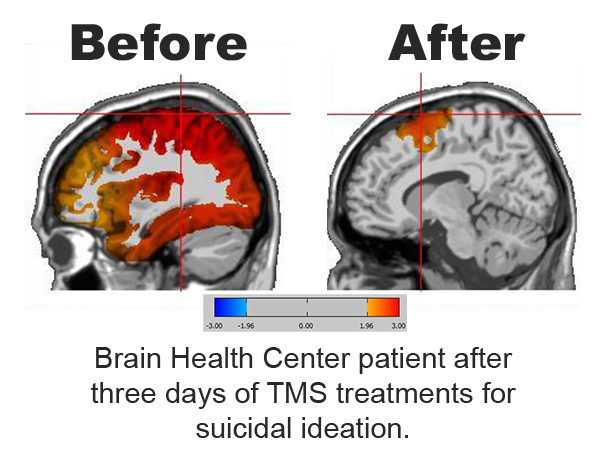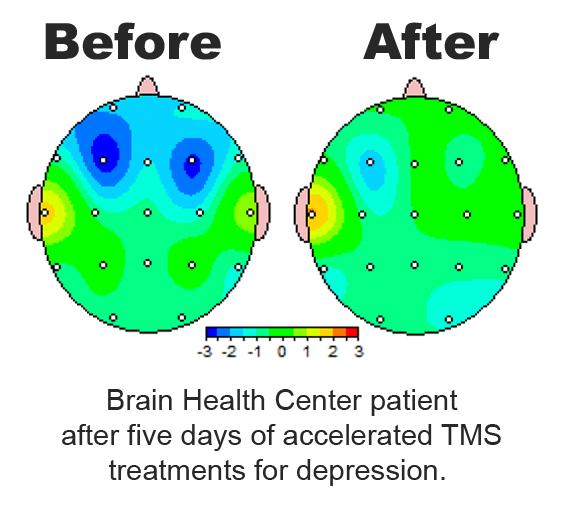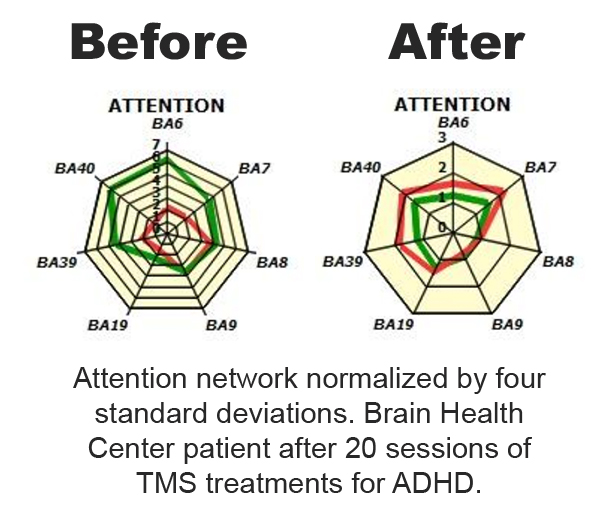 The staff and facility was amazing. Everyone was kind and very knowledgeable. The TMS treatments have helped me so much and I would do it all over again.
My child (9 year old) has been diagnosed with anxiety disorder. We ended up having TMS treatments done at the Brain Health Center and I am beyond happy we did. The staff was incredible and treated us so well the whole time, including all my extra kids I had to bring along due to not having childcare my kids were never treated like a burden. Beyond how incredibly kind the staff was the treatment has made such a difference for my child. He explained to me how he isn't worried about things like lightning anymore and even wants to watch it, when in the past he would have been anxious and worried about it. He is more easygoing and generally happier. This is honestly a life changing treatment for our family and I would 100% recommend anyone searching for anxiety, depression, ADD/ADHD treatment to go to the brain health center.
My experience with the Brain Health Center was nothing short of life affirming. From the moment I walked through the door, till my last session, I was enveloped with a combination of compassion and humanity, along with so much more. Every single staff member brought their own unique quality to the experience, and made it a priority to make sure I had everything I needed. From the conversations we had during my sessions, to keeping my private suite stacked with all the snacks and drinks I could ever want. They even ordered lunch for me every day! Most importantly, even after just 5 days (I had the accelerated procedure), I truly feel a major difference. A few weekends ago I was in a hospital feeling utterly hopeless, but now I'm just getting back from a weekend of feeling alive in the amazing outback that southern Utah has to offer. I just can't say enough about my time at the Brain Health Center. It was a partition moment in my life that I'll never forget.
I went for treatments for suicidal ideation and not only was it free, but the staff was so kind and generous! They make sure you feel comfortable and taken care of and it was honestly even a nice break just for that. I would definitely recommend you go here for treatments if you're struggling with suicidal ideation because it is a safe space to get treatments that could really help you. I was considering going to a psych ward, but honestly I'm glad I did this instead because the staff is sooooo much nicer than I'd ever experienced in a psych ward. I'm still waiting to see what results I get since I've just barely finished but I've felt noticeably better (but not completely) since the last day of treatments and my cousin who went for the same thing has noticed significant improvements. I can also update in a few weeks/couple months once I've noticed more improvement
I was able to do the accelerated treatment at Brain Health Center and I can't say enough how much I loved it! They made what could be considered a stressful week so nice! The suite was very comfortable and easy to work remote from. However, the thing I loved best were the people that worked there! They were constantly doing things to ensure I was doing okay. I loved talking with them and getting to know them during treatments. I can honestly say I was sad once my treatment was over because I was going to miss seeing them every day! The treatment itself was not painful and you could clearly see the results from the pre and post brain scans. This place is doing amazing things for so many people and I wish nothing but the best for them!!!
Meghan Gifford
2023-08-11
I am so grateful for the Brain Health center and all of the employees. They are all amazing and made me feel like home every time I came in. I was able to do the accelerated treatment and it was a good experience. I will be forever grateful to them for helping me feel better mentally.
Brandy Ramirez
2023-08-01
Great staff and building. I have a good experience every time and feel very welcome. It is a nice calm environment plus they provide snacks and drinks
Scout Cartmill
2023-08-01
The staff here is amazing, it was a great experience. It's a very nice environment and they provide snacks and drinks. I enjoy going in for treatment every time and definitely recommend it.
Jonathan and Natalie Haws
2023-07-20
I really enjoyed my time at the Brain Health Center. I was able to experience Accelerated TMS everyday for a week. It was so comfortable to stay in a private suite all day with all the luxuries we could possibly desire, including a 5 Star lunch everyday! The staff at The Brain Health Center was top notch and we made friends for life with them! I was so excited at the end of the week to see my second brain map showed that I had Less anxiety! It's been a few weeks since treatment and while I don't see a huge outward result, I do find I feel more calm and have more of an overall confidence and hope in life. I think this treatment works great with Cognitive Behavioral Therapy and I recommend a free CMT Therapy called Recovery. Overall, if I choose to try TMS for Anxiety (my experience was for the treatment of Depression) I I am confident I will choose the Brain Health Center for any future Therapy?
I had mixed emotions about trying TMS treatments. I have heard it worked for other people, but was skeptical it would work for me. Due to trauma when I was younger, I have suffered with depression and anxiety for years, and tried many anti depressants and anti anxiety medications. They helped for a while, but my depression and anxiety always returned, and I felt numb to my emotions while on the medications. I decided I was ready to try something different. When I walked in the office, I was greeted at the door, the staff was expecting me, and called me by name! Raphael explained a few options and shared his experience, which made me feel more comfortable. The techs are amazing!! They are so professional, kind, and compassionate. After only a few treatments, my family started to notice a difference in my moods. I didn't want to come home from work and go straight to my bedroom to be alone. I wanted to be with my family! I felt a little lighter and not so anxious or down! I am feeling like I can finally start living my life again, instead of just existing! Thank you Brain Health Center! I can't wait to see where I will be when my treatments are finished!
For many of our friends seeking wellness, TMS is an incredible solution. Get started now with our team.